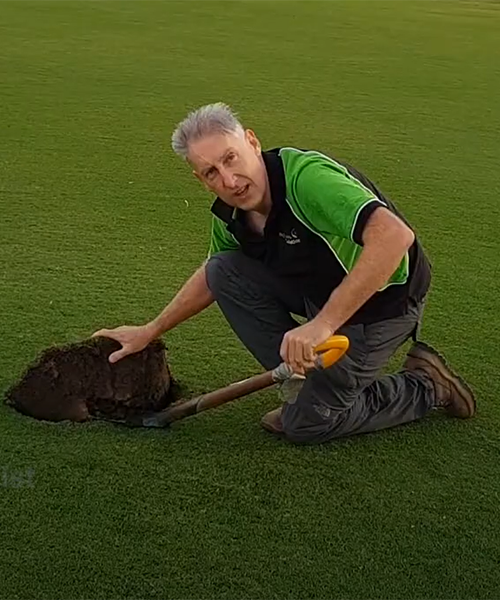 Managing director Dr Mick Battam (soil scientist) has 25 years of turf experience and is known for his innovative ideas that enable sporting field to handle up to 60 hours per week of use.
Mick has provided amendment and/or water saving advice for more than 2000 sporting fields, 25 golf courses, 50 feature parks, 5 botanic gardens, racetracks, 500 residential houses and 100 farms. He has provided advice for high profile such sites such as Barangaroo, Hyde Park, Royal Botanical Gardens, Royal Randwick, RMC Duntroon, Sydney Olympic Park and NSW Golf Course.
Mick is an industry leader that is highly innovative, being a primary author of:
Love Your Garden water saving program applied to 26,000 residential houses
Best practice guidelines for wholistic turf management in Sydney
Sporting field wear and carrying capacity calculator
Healthy home lawn factsheet for Turf NSW
Best practice videos such as "Improving the condition of local sporting fields"
In addition to having a degree and PhD in Agricultural Science, Mick is a Certified Professional Soil Scientist and Certified Irrigation Agronomist. He is often invited to speak to turf farmers, sports turf managers and landscape designers.
In 2014 then environment minister Rob Stokes presented Dr Mick Battam with the AORA award for 'Outstanding contribution to organics market development by an individual, processor or organisation'